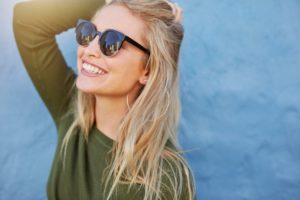 Summer is here, which means you'll want to spend time outdoors with friends and family. You may be after the perfect tan or summer outfit to complete your look, but a set of pearly white teeth is actually the most attractive summer accessory that you can invest in. A white smile will not only make you and your tan look more attractive, but it'll give you the confidence that you need to thrive when it's hottest. Keep reading to learn more about teeth whitening in McKinney and how you can benefit from it.
Why are My Teeth Discolored?
An unfortunate fact of life is that your teeth will become discolored no matter what. While foods rich in color, smoking, tobacco use, heavy alcohol consumption, and other factors can cause stains and discoloration more rapidly, your teeth will eventually yellow with old age. This is due to normal wear and tear, plus consumption of staining foods and lifestyle choices.
The Benefits of Summertime Teeth Whitening
You can benefit from teeth whitening during any time of the year, but white teeth could be the key to your summer. Your suntan or bright clothes will help your teeth look whiter, but your white teeth will also help you look tanner. This is key for all of your outside fun planned for the summer, events, pool time, and more. This will not only boost your appearance, but white teeth will increase your confidence in any social or professional gathering. Get ready to flash your pearly whites in the sunshine!
Another advantage of teeth whitening during the summer is time. You'll not only have more time to receive professional teeth whitening, but you can also put more thought into how you can maintain your newly whitened smile. With a more open schedule and a desire to maintain whiteness, you can visit your dentist for touch-up treatments. This way, you'll be able to extend the lifespan of your whitened appearance, allowing for a beautiful smile into the fall.
Your Whitening Options
Your dentist in McKinney has in-office and take-home whitening options for your convenience. For quick and dramatic results, an in-office appointment can whiten your smile by up to 8 shades. Your dentist will apply professional-grade gel to your teeth and then use a special heating lamp to speed up the process. If you wish to receive the benefits of professional whitening in the comfort of your own home, the take-home option may be best. With this solution, you will apply whitening gel to custom-made whitening trays for daily use.
Are you ready to complete your summer look with professional teeth whitening? Contact your dentist today to take your first step towards a bright, white, and confident smile.
Meet the Dentist
Dr. Rana Lee is an experienced dentist with a true passion for quality care. She enjoys boosting her patients' confidence, which is why she offers multiple teeth whitening options. She currently practices at TriCorner Dentistry, and she can be contacted through her website or by phone at (214) 446-5477 for any questions.