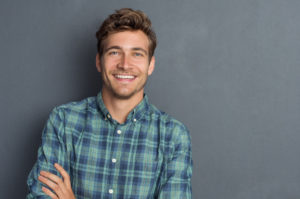 Having a beautiful smile is a wonderful asset — and some research even says it can make others more apt to trust you and increase your chances of success at work. If you are anything less than 100% satisfied with the appearance of your smile, your cosmetic dentist in McKinney can help. There is a range of treatments available within cosmetic dentistry, from veneers and whitening to gum contouring and more — but which one is right for you? Take the following quiz to find out!
The Cosmetic Dentistry Quiz
Answer the following questions to find out which cosmetic dentistry treatment may suit your smile best. Don't worry — there are no wrong answers!
1: How would you rate your smile on a scale of 1-10?
Between 7 and 9: It's mostly OK, but there are a few minor flaws I would like to correct.

Between 4 and 6: It's pretty average with several imperfections that are significant enough to make me feel self-conscious.

Between 1 and 5: I have significant discoloration, chipped, broken, or misshapen teeth, or other very bothersome flaws.
2: What is your budget for cosmetic dentistry?
I want to reduce my costs as much as possible.

I don't mind spending a little more for good results.

I have saved up and am ready to spend whatever it takes for my smile.
3: Are you ready to permanently alter your smile, or are you looking for something more temporary?
I would prefer to keep my natural tooth structure.

I am willing to consider the option.

Absolutely — my teeth need all the help they can get.
4: Are you dealing with structural issues as well, like broken, decayed, or missing teeth?
I have minor chips but otherwise healthy teeth.

No, my teeth are healthy.

Yes, I have some issues with the health of my teeth as well. 
Which Procedure Is Right for You?
If you answered…
Mostly A's: You are in luck! Your minor imperfections can easily be fixed with a treatment like cosmetic bonding. With this approach, your dentist uses composite resin to rebuild the imperfect tooth enamel to help you love your smile again. You may also want to consider teeth whitening for a more dazzling look — both treatments are highly affordable for your spendthrift budget.
Mostly B's: You may want to consider porcelain veneers or Lumineers, treatments that can dramatically enhance the appearance of the teeth that show when you smile. Veneers require permanent alteration of the tooth enamel, but Lumineers can usually be placed without any preparation. They cover up imperfect tooth enamel to leave you with a dazzling smile that can last for years and years. They come at a higher cost, but most patients agree they are worth the investment.
Mostly C's: If you have significant issues affecting the form and function of your teeth, you may need a full smile makeover. This option combines two or more cosmetic dentistry procedures as well as necessary restorative treatments to bring your smile health back to tip-top shape. Your cosmetic dentist can give you an estimate of what this will cost — it depends on the treatments being performed.
Hopefully, this quiz helps you understand your options in cosmetic dentistry — no matter which treatment is right for you, investing in your smile is always worth the effort!
Meet the Practice
TriCorner Dentistry offers a full list of cosmetic dentistry treatments with an expert touch for patients who are looking to transform the appearance of their smiles. To learn more about your options or to schedule an appointment to discuss cosmetic dentistry, you are invited to contact your dentist in McKinney at 214-446-5477.