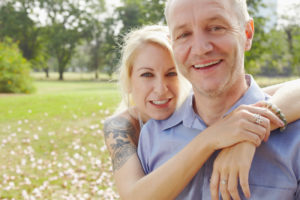 The flu has hit us hard in the United States this season, and that includes here in DFW. A lot of people we know have been sick this winter, and if you have had or are getting over this particularly strong strain of influenza, we wish you a speedy recovery! And we also want to remind you how important it is to take care of your oral health when you are recovering from the flu. Take steps like changing your toothbrush and scheduling a visit with your dentist in McKinney to help prevent reinfection and enter the next season feeling healthy and energetic.
#1: Careful With Your Toothbrush
The flu virus thrives on moist surfaces, and that means the little friends that carry the flu can't wait to get comfortable on your toothbrush. You should definitely keep brushing your teeth when you have the flu, but be careful with the brush itself. Don't share your toothbrush, ever — and especially not now. It's a good idea to soak its bristles in hydrogen peroxide after each use to prevent the spread of the virus.
#2: Replace It After Sickness
Once you have completely healed from the flu, go ahead and toss the toothbrush or your electric toothbrush head in favor of a new one. You should be replacing your brush every three to four months, anyway, so chances are it's probably almost time (depending on when you bought your last one, of course). It's worth it to prevent the risk of re-infection!
#3: Know When to Brush
Children are more likely to vomit when they have the flu, but you may also be afflicted by this unpleasant side effect as well. Whether it's you or your little one, try to avoid brushing your teeth immediately after throwing up. Vomit is filled with stomach acids that are tough on your tooth enamel, and brushing too soon just rubs them all over the teeth. If you can stand it, rinse your mouth with water or a diluted mouthwash instead. Wait about half an hour to an hour before you brush your teeth.
#4: Careful With Sugar
We can't figure out why some cough drops or lozenges contain sugar — but we strongly recommend to avoid these cavity-causers when you are ill. You may want to eat several cough drops in an hour, and if they also come with a whopping dose of sugar, that spells trouble for your teeth. Watch out for common sick foods, too, like fruit juice and popsicles. We advise rinsing your mouth out with water right after eating them and brushing your teeth soon as well.
#5: Visit Your Dentist
Once you have fully healed from the flu, we suggest a visit to the dentist in McKinney. Getting a checkup and cleaning will help to ensure you made it through flu season without any harm to your teeth. Don't wait to book a visit with TriCorner Dentistry after you've healed from the flu — we want to help your smile stay as healthy as you feel!
Meet the Doctor
Dr. Rana Lee is the general, restorative, cosmetic, and emergency dentist McKinney friends and families trust with their smiles. She offers a range of services from the comfort of a state-of-the-art office. To learn more about her treatment areas or to schedule an appointment, please do not hesitate to contact the office at 214-446-5477.