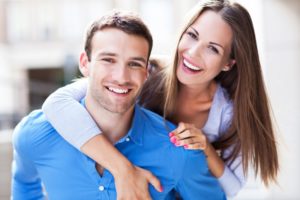 2018 is the year that you truly take care of yourself. No more skipping dental visits and eating snacks that harm your mouth; this is the year you serve yourself the care you deserve. Whether it's breaking old habits or breaking in new ones, you'll find that a big part of self-care starts with the most common kind of care there is: oral care.
It isn't difficult to add new habits to your oral regimen. Once you stick with it, you'll wonder how you weren't doing it in the first place! Eventually, you'll start thinking of ways to improve the look of your smile as well as the health of it. Here are some tips from your dentist in McKinney.
Removing the Habits that Damage Your Teeth
It's a common resolution to cut out certain habits we know are damaging our overall health. Snacking throughout the day may satisfy temporary cravings, but it's important to keep in mind how many starches and sugars you're regularly consuming. These directly contribute to teeth decay and should be kept to a minimum. Instead, try planning meals ahead of time that you know will keep you full until your next meal. Consider chewing gum that contains Xylitol to neutralize acids leftover in the mouth that cause decay.
Additionally, one of the most popular resolutions people set is to stop smoking or using tobacco products. Not only are they a huge contributor to gum disease, they cause cancer in several other areas of the body. Consider using free online tools, smoking cessation groups, and support from your friends and family to help you quit smoking and improve your self-care initiative.
Using Techniques That Will Make You Look Your Best
As you embark on your journey to better oral health, you'll find there are many ways to improve the look or your smile as well as the health of it. For a whiter and brighter appearance, try using tooth-whitening products to remove extrinsic (surface) stains from your teeth. Your cosmetic dentist in McKinney offers professional teeth-whitening treatments that remove intrinsic stains deep under your enamel. Their bleaching products are ideal for stubborn stains you want to remove in the new year and keep out for years to come.
As effective as these products are, you'll want to make sure your oral care a significant part of your self-care resolution as well.
Make Regular Dental Visits Part of Your Self-Care Resolution
Getting to your dentist at least twice a year for exams and checkups is essential to keeping a healthy mouth. Not only will they remove plaque that you can't get off at home, they can prevent oral disease from progressing or reveal existing disease in its early stages. The ADA recommends consumers to visit their dentist every six months so dentists can effectively monitor your oral cavity and develop an appropriate treatment plan for oral disease.
At the end of the day, it's up to you to decide how important self-care means to you. For more tips on making oral care a key value in your self-care regimen, schedule an appointment with your dentist today!
About the Author
Dr. Rana Lee earned her B.S. degree from the University of Texas at Arlington and her D.D.S. from Baylor College of Dentistry. She is a member of the ADA, the Dallas County Dental Society, the American Academy of General Dentistry, and many others. To learn more self-care tips for oral hygiene and her practice, contact her at (214) 446-5477 or visit her website.