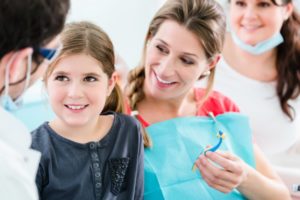 Visiting a family dentist in McKinney comes with lots of perks. You won't have to run all over town so everyone in your household can get their teeth worked on, it's easier to schedule appointments, and your entire clan can establish a trusting relationship with your dentist. But how do you find the right dental care provider for you and your children? Here are some tips to help you settle on that special doctor who will keep everyone in your family smiling bright.
Skills and Experience Matter
Any dentist can perform basic services for adults, such as cleanings and checkups. However, you want someone who goes beyond the basics. It's especially important that you choose a dentist who has experience working with children, who have unique oral healthcare needs. That doesn't mean that your kids need to see a pediatric specialist, but you should look for someone who can spot the developmental problems that sometimes afflict young smiles.
Ask for Others' Opinions
Ask your friends if they've found a dentist in McKinney whom they love. Be sure to inquire about things like why they had a positive experience with the dentist and if they feel there is a welcoming atmosphere toward children there.
Take your friends' recommendations and go online to do a bit of further research. Browse through reviews of dentists; anyone who has left a generally good impression on the public should go on your short list of candidates.
Find Someone You're Comfortable With
As helpful as recommendations from others are, your opinion is the most important one when you're looking for the perfect "dentist near me." Go into the office of any potential dentists for a meet and greet so you can get acquainted with the staff. If they're friendly and welcoming, that's a huge plus! If you can, try to meet the dentist as well. You want someone whom you'll feel comfortable asking questions and who will take the time to address all your concerns.
When you stop into the office, it might be a good idea to take your kids with you. You can get their feedback on the environment and the people in the dentist's practice.
Choose a Practice That Is Accepting New Patients
The last thing you want to do his set your sights on a dentist only to find out that they aren't accepting new patients at the moment. Fortunately, Dr. Rana Lee at TriCorner Dentistry is accepting new patients, and she looks forward to meeting you. She has a family of her own and understands that kids need a gentle and caring touch when they're visiting the dentist. We invite you to schedule an appointment so you can get to know her and the rest of our team!
More About Us
Dr. Rana Lee and her team love work with entire families, from your precious toddlers to your aging grandparents. We strive to always be friendly, trustworthy, and kind. If you are looking for a new dental care provider, we'd be happy to talk with you! Please contact us at 214-446-5477.